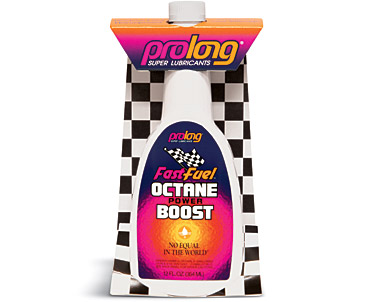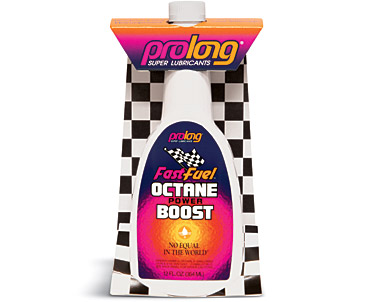 Prolong Octane Boost provides a street-legal jolt of extra octane power. It also helps restore lost horsepower and stops knocking, pinging and hesitation. Don't pay for extra octane at the pump every time – add Prolong Octane Boost to get that extra boost needed, especially when pulling a trailer or boat. Will not harm oxygen sensors or catalytic converters. Octane numbers will vary depending on the type of gasoline used. Consistent application will help improve overall performance. Prolong Octane Boost contains Methylcyclopentadienyl Manganese Tricarbonyl (MMT).
Product Overview
Street legal increase in octane!
Stops knocks, pings and hesitation
Helps restore lost horsepower and improve gas mileage
Does not harm oxygen sensors or catalytic converters
MSDS: Download Fast Fuel™ Octane Power Boost Material Safety Data Sheet (MSDS)
How to Use


Prolong Octane Boost is quick and easy to use. Add full contents to a nearly empty gasoline tank, then fill with gasoline. Treats 16 to 20 gallons of gasoline. Do not use full bottle with less than 16 gallons.
Available sizes
Videos
Testimonials
When introduced to Prolong Waterless Wash & Shine, I was very skeptical of it's claims…I could not imagine not using water to clean my car.  I did give it a try, based on hearing how good it was.  I am a believer!  I have used the product in the shade, in scorching sun, in the garage, and every time, I get a beautiful shine, reminiscent of a good wax job, without the annoying build-up.  I have used it as a touch-up when my wife parks under a tree, and it works on chrome, paint and the painted plastic accents on my truck.

Though the Prolong website FAQS call for terry cloth towels, the microfiber cloths sold at Harbor Freight also do a great job.  Love it!
After seeing your impressive demonstration of your Prolong products, we made the decision to test it in our truck #53, which is a Cummins with 552,433 miles and a 12315 transmission. (We used Engine Treatment in the crankcase, Transmission, Gear & Differential Treatment in the transmission, front differential and rear differential, and AFMT to each of the front wheel hubs. We then applied Diesel Conditioner to 200 gallons of diesel fuel). After the first week of travel, which was about 7,000 miles, the test results showed that the mpg went from 4mpg to 5mpg, an increase of 25% in mileage, or an additional 200 miles per fill-up. The driver of the truck (who was never told of the Prolong addition) noticed that the shifting of the gears was so much smoother and easier. He also noticed a substantial increase in horsepower. In general, the whole truck runs better and smoother. We hope to be able to add it to the rest of our tanker fleet soon.
M. Autrey, Chief Mechanic
Cantley Transportation, Inc.
This past weekend we went and tested a brand new motor combination with the new Prolong 70 wt Nitro Racing Oil and it performed awesome. Our crew chief imediately noticed how the oil had a slight tackiness to it which was the AFMT. We ran our quickest ever with a planned early shut off of 5.93. Bearings looked perfect after the run. Very excited for the California Hot Rod Reunion in 2 weeks.

Thanks for a great product .

Will Martin
Steel mill had a pillow block bearing running at 326 degrees. Normal operating temperature was 190 degrees. The fourteen-year old bearing was smoking, but they had to keep production going until the morning when maintenance could fix it with new parts. They used EP-2 Grease and twenty minutes later, the temperature had dropped to 260 degrees, the smoking and squealing had stopped. Through the night, the temperature had dropped to 130 degrees and leveled out at 167.
Steel Mill in Ohio
Gold mine's initial problem was that a set of bearings had score marks causing the operating temperature to rise and no replacement bearings were available for approximately 2 weeks. They turned the white metal bearing caps around, i.e. top to bottom, cleaned the old grease and contamination out, filled with Prolong EP-2 Grease and ran for 4 weeks until a scheduled repair could be done with new bearings. They only run on EP-2 now, but use far less for longer than the old type of grease with better bearing life.
Gold Mining Group, South Africa
When two samples of grease were tested by the South African Bureau of Standards, Prolong Super Lubricants met or exceeded all of their test criteria.
Properties tested by SABS were as follows:
Penetration, copper corrosion, drop point, evaporation loss, oil separation, rust prevention, water wash-out, wheel bearing leakage, working stability, Timken OK-value, and wear scar diameter.
South African Bureau of Standards, South Africa
Research scientists at Northwestern University, sponsored by the Infrastructure Technology Institute, conducted a laboratory project "to study the effect of various lubricants on the wear and corrosion of metals recommended for bridge pin and eyebar connections". Scientists ran corrosion tests in a salt fog chamber to replicate the environmental conditions United States bridges are exposed to. They used several types of metals and 7 competitive greases in their testing.

Findings are as follows:

"Prolong EP-2 gave an exceptional reduction in corrosion rate"
"Results show Prolong EP-2 Grease to be about 10 times more resistant to corrosion than a typical wheel bearing grease"

They ran a series of mixed grease tests on wear and corrosion resistance and concluded, "None of the mixed greases performed as well as Prolong EP-2 Grease, however, there was some reduction in corrosion as the percent of Prolong EP-2 increased".
R. H. Krueger, Research Scientist
Northwestern University
We use Prolong EP-2 Grease in air and electric motor bearings, molding press tie bars, oven roller wheels, mask washer agitators, guide pins, mold parts, and volume air pumps plantwide, all with excellent results' unequivocally recommend Prolong products in any of the above applications."
F.D. Helman, Maintenance Supervisor
Worthington Industries, Inc, Salem, Ohio
Manufacturers of injection molded plastics
Cement company operates a Fuller Kavako to unload cement from the hold of cargo ships. The Fuller's bearing must be greased every 6 hours and the procedure takes 45 minutes. However, since we began using EP-2 Grease the between greasing has increased to every 2 days. Using your product had led us to substantial savings. We have also begun using EP-2 Grease on the basket elevator. We originally greased the bearings every other day. Since using your product, it is now only necessary to grease the bearings twice a week."
Daniel Douglas- North Texas Cement Company, Houston, TX
Other Automotive Products
View all automotive products HERE