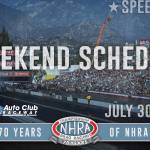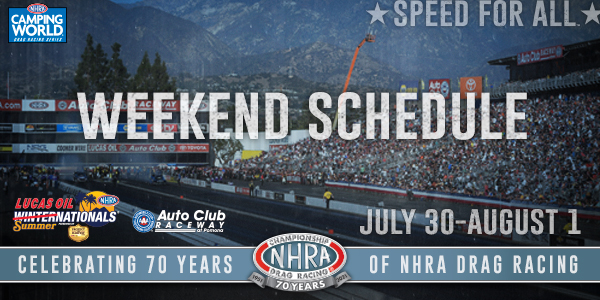 LUCAS OIL NHRA WINTERNATIONALS PRESENTED BY PROTECTTHEHARVEST.COM EVENT SCHEDULE
Attention All Pomona NHRA Fans!
Are you ready to welcome a little winter to your sunny SoCal summer? The NHRA Camping World Drag Racing Series is headed to Auto Club Raceway at Pomona for the Lucas Oil NHRA Winternationals Presented By ProtectTheHarvest.com and the conclusion of the annual NHRA Western Swing. Header flames and fireworks will illuminate the Southern California sky as racers prepare for race day on Sunday.Catch all the exciting racing action from the NHRA Winternationals! Below is an event schedule summary – full details can be found HERE. Schedule subject to change throughout the weekend.

Friday, July 30
Sportsman Qualifying – 10:30AM
Top Alcohol Q1 & Q2 – 2:30PM & 6:15PM
Pro Stock & Pro Stock Motorcycle Q1 – 7:15PM
Nitro Q1 – 8:15PM
Cacklefest & Fireworks – 9:30PM

Saturday, July 31
Sportsman Eliminations – 10:30AM
Top Alcohol Q3 – 1:15PM
Pro Stock & Pro Stock Motorcycle Q2 & Q3 – 3:30PM & 6:30PM
Nitro Q2 & Q3 – 4:30PM & 7:30PM
Top Alcohol Eliminations – 5:30PM
"Hemi Under Glass" Wheelstander Exhibition – 8:30 PM
Cacklefest & Fireworks – 8:35PM

Sunday, August 1
Sealmaster Track Walk & Pre-Race Festivities – 9AM
Pro Eliminations Begin – 10AM
Top Alcohol Eliminations Continue – 11:40AM
Sportsman Eliminations Continue – 1:25PM
Pro Finals Begin – 3:15PM
Winner's Circle Celebration on the Starting Line – 3:30PM
Don't have tickets yet? Click the button below and secure your spot now!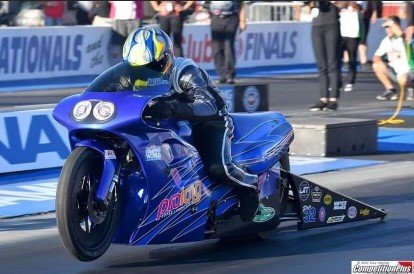 Come see Fred this fall in Las Vegas and Pomona for some exciting Pro Stock Motorcycle action! Make sure you stop by the pit to meet the team.
Nevada Nationals in Las Vegas… October 28-30
Qualifying Friday at 12:30pm and 3:15pm
Qualifying Saturday at 12:00 and 3:30pm
AAA Finals in Pomona at the Fairplex November 11-13
Qualifying Friday at 12:00pm and 3:15pm
Qualifying Saturday at 11:30am and 3:00pm
Make sure to follow @GoProlong on Facebook and Instagram to stay up to date with all of Fred's races along with all of our great deals and offers!