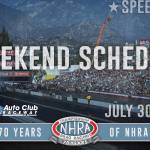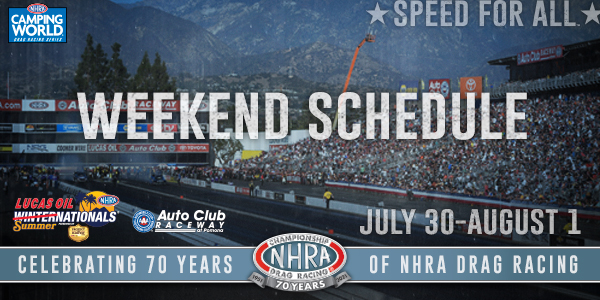 LUCAS OIL NHRA WINTERNATIONALS PRESENTED BY PROTECTTHEHARVEST.COM EVENT SCHEDULE
Attention All Pomona NHRA Fans!
Are you ready to welcome a little winter to your sunny SoCal summer? The NHRA Camping World Drag Racing Series is headed to Auto Club Raceway at Pomona for the Lucas Oil NHRA Winternationals Presented By ProtectTheHarvest.com and the conclusion of the annual NHRA Western Swing. Header flames and fireworks will illuminate the Southern California sky as racers prepare for race day on Sunday.Catch all the exciting racing action from the NHRA Winternationals! Below is an event schedule summary – full details can be found HERE. Schedule subject to change throughout the weekend.

Friday, July 30
Sportsman Qualifying – 10:30AM
Top Alcohol Q1 & Q2 – 2:30PM & 6:15PM
Pro Stock & Pro Stock Motorcycle Q1 – 7:15PM
Nitro Q1 – 8:15PM
Cacklefest & Fireworks – 9:30PM

Saturday, July 31
Sportsman Eliminations – 10:30AM
Top Alcohol Q3 – 1:15PM
Pro Stock & Pro Stock Motorcycle Q2 & Q3 – 3:30PM & 6:30PM
Nitro Q2 & Q3 – 4:30PM & 7:30PM
Top Alcohol Eliminations – 5:30PM
"Hemi Under Glass" Wheelstander Exhibition – 8:30 PM
Cacklefest & Fireworks – 8:35PM

Sunday, August 1
Sealmaster Track Walk & Pre-Race Festivities – 9AM
Pro Eliminations Begin – 10AM
Top Alcohol Eliminations Continue – 11:40AM
Sportsman Eliminations Continue – 1:25PM
Pro Finals Begin – 3:15PM
Winner's Circle Celebration on the Starting Line – 3:30PM
Don't have tickets yet? Click the button below and secure your spot now!
As our valued customers continue to feel the increasing impact of Coronavirus, we wanted to make sure that we are transparent about our line of Prolong Super Lubricant products and that delivering great products to our customers is our utmost priority. While many people are waiting in long lines to get toilet paper and water, you can order our products online and have them shipped directly to your house – so you don't need to worry about packing into shopping centers like sardines. We offer free domestic ground shipping on all orders over $25! 
Every single one of our fantastic products are manufactured, packaged, and shipped from our headquarters in Pomona, California. Since day one, we have taken pride in our products being made in the United States of America. As many competitors are facing enormous supply chain impacts due to their reliance on imports and the recent trade restrictions – we are able to continue to deliver the same quality products day after day. As an extra precaution our fulfillment team is taking extra preventative measures in disinfecting to make sure that your products are sent out without any extra passengers coming along for the ride.

As many of the Prolong Family are practicing social distancing and other preventative measures to reduce the spread of COVID-19 many of us want to make sure that we can keep our engines running and we can be prepared for any situations that can occur from this ever changing situation. Our products were designed to keep your engine purring like new. Engines old and new love our products and the ever growing Prolong Super Lubricants family will always be able to attest to its benefits. Grab some of our engine treatment and your engine will appreciate the reduced friction and increased efficiency. If you have an older engine that might have little leaks or is prone to burning off oil – it needs something a little thicker – grab our Oil Stabilizer. Click here to grab some Oil Stabilizer. Its so thick and chock full of antioxidants we recommend that you add it to a hot engine and drive it a around a little so it can completely mix in with your oil.
If you need to spend a couple of weeks indoors at home, why not pick up some of those projects that you couldn't find the time to do it until now. This is your one-stop-shop all around lubricant that can really help you in a pinch. It does much more than just lubricating stuck or seized contact points, but it will also breakdown and lift away any dirt, grime, or rust that might have gotten into whatever you need lubricated. You don't need to remove the screws on hinges to stop squeeky doors – just apply some SPL100 and you are ready to go. We love hearing from our customers on all of their SPL100 uses. Tag us on social media and we might feature you on our site and send you some of our premium products! Click here to grab some SPL100
Sometimes you need something a little more viscous to lubricate and seal out moisture from weathering and dust. Prolong has you covered with our EP-2 grease. You can order it by the drum, the pail or in a 14 oz container that fits right into your favorite grease gun. This grease is loved by many watercraft enthusiasts since it protects rain or shine, and can withstand long periods of time in the harshest conditions all the way from the driveway to the middle of the ocean. If you decide to wait out the virus on a boat – make sure you grab some EP-2 grease before you leave shore – we do not currently offer any mail-boat shipping options! Click here to grab some EP-2 Grease