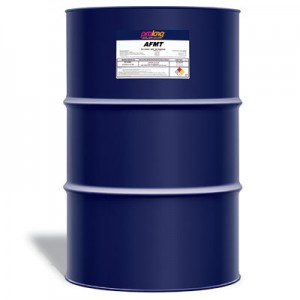 Prolong AFMT™ Multi-Purpose Lubricant Concentrate is formulated with Prolong's AFMT™ advanced technology to treat all metal surfaces through a molecular and chemical process. This creates a unique, superior resistance to extreme pressure friction and heat, major enemies of equipment life and efficient, economical performance. With expensive equipment, tight production schedules and costly down time, Prolong AFMT Multi-Purpose Lubricant Concentrate helps reduce operating overhead and improves the bottom line by keeping equipment running dependably and efficiently.
BUY NOW
Prolong Super Protectant is water-resistant so it won't wash off like regular protectants. It blocks out the elements for a more durable shine and longer lasting protection. Tested against the best protectants in the world, this product outlasts them all! With this unique formula you can dial the shine up or down, depending on how much you wipe.Prolong Super Protectant is water-resistant so it won't wash off like regular protectants. It blocks out the elements for a more durable shine and longer lasting protection.

Product Overview
Reduces electrolysis, extreme pressure friction and excessive heat
Displaces moisture and protects metal surfaces
Helps prevent corrosion and oxidation
Formulated with the unique, AFMT™ advanced technology formula
SDS
How to Use
Add 10% to total volume of oil for gas or diesel fueled motors, engines or gear boxes. Add 5% to total volume for hydraulic systems and automatic transmissions. For maximum results in large volume engines under heavy load, use 15% to the total volume of oil.
Available sizes
Quart-size Bottle
Gallon-size Bottle
5-Gallon Bucket
55-Gallon Drum
Videos
Testimonials
Production drive-line gearboxes used at an assembly plant have historically been replaced at 2-4 gearboxes per month.  The gearboxes tended to operate at fairly high temperatures.  Upon the application of Prolong AFMT the gearboxes remained only warm to the touch.  All 400+ gearboxes on the production line were treated with AFMT.  It was been over 41/2 years and the plant has had NO gearbox failures in Prolong-treated equipment.
Manufacturer of automotive parts
Plant operating a leased fleet of 42 "5-year throwaway" lift trucks, was experiencing so many gearbox failures, downtime and repair-related issues, that they decided in the third year of operation to install 10% Prolong AFMT into each truck.  Their desire was to "get through" two more years before having to discard these trucks for a new leased fleet.  The fleet is now in its ninth year of operation and running so well that, in the eighth year, the entire fleet was purchased.
Automotive part assembly plant.
Gold mine had been having problems keeping cooling tower gearboxes at acceptable temperature levels.  Temperature on 5 gearboxes was 58 degrees C standing in open air.  In an open space, the weather plays a big role.  They treated the gearboxes with AFMT after which the temperature dropped to 43 degrees C.  By using Prolong in these 5 gearboxes and all 5 showing a temperature drop of 15 degrees C, this showed conclusive evidence that Prolong took away the friction in the gearboxes, which resulted in a 35% drop in temperature.
G. Schultz, Foreman, Kloof Gold Mine, Africa
We have been using Prolong products for approximately two years.  We have had excellent results in applying Prolong AFMT in preventative maintenance in gearboxes on HPM injection molding machines, Sargeant vacuum pumps, 1,000 gallon capacity hydraulic systems and countless other plantwide procedures.  I rate Prolong products superior on all counts.
F.D. Helman, Maintenance Supervisor, Worthington Industries, Inc,  Salem, Ohio
Manufacturers of injection molded plastics
After seeing your impressive demonstration of your Prolong products, we made the decision to test it in our truck #53, which is a Cummins with 552,433 miles and a 12315 transmission.  (We used AFMT in the crankcase, transmission, front differential, rear differential, and to each of the front wheel hubs.  We then applied Diesel Conditioner to 200 gallons of diesel fuel).  After the first week of travel, which was about 7,000 miles, the test results showed that the mpg went from 4mpg to 5mpg, an increase of 25% in mileage, or an additional 200 miles per fill-up.  The driver of the truck (who was never told of the Prolong addition), noticed that the shifting of the gears was so much smoother and easier.  He also noticed a substantial increase in horsepower.  In general, the whole truck runs better and smoother.  We hope to be able to add it to the rest of our tanker fleet soon.
M. Autrey, Chief Mechanic, Cantley Transportation, Inc.
Gold and platinum mines applied AFMT in the mines' underground air-conditioning systems and realized significant results. Prolong Transmission, Gear & Differential Treatment was used in cooling tower gearboxes in which temperature reduction helped in the elimination of heat overload or cut out switch. Also, the use of AFMT in bearings surrounding shaft winders has doubled the life of the bearings.
Gold Fields Group and other gold and platinum mines, South Africa
Athletic wear plant uses a 2600-ft chain on overhead chain conveyor. The chain cost was $25,000 every 18 months due to extreme wear. Noise levels were extremely high due to poor lubrication of the chain. Grit and dirty residues would contaminate annual production at appreciable levels and result in scrap. After AFMT was added, the noise was virtually eliminated overnight. Over a period of 24 months, there was no evidence of any chain wear, and no build up of gritty residues. NO scrap product due to dripping oil was created, returning significant levels of production effort to the retail market.
Russell Athletic Wear
Good morning Sir or Ma'am, I have been a loyal customer and a believer in your product. I once had an old Dodge truck that I had put your tranny and engine treatment in and it was amazing. I drove it up to and over 500,000 miles. when the tranny blew on it and I mean dumped the fluid all over the road, it still drove and made it all the the way to the tranny shop at normal operating speeds. When it was taken apart by the mechanic, he was shocked to see no clutch pads and he said that it should have never made it this far. It was amazing and becuase of that I am a believer in your product. Thank you very much to take the time to read this email and I hope you folks have a great Holiday.
Richard, Tucson, AZ
Plant used Prolong AFMT and EP-2 Grease, which improved bearing life. Their reduced energy costs have been realized in virtually all applications. Their pulverizors had an immediate amp drop of 5-15% after treatment with AFMT. Noise levels were reduced markedly with speed reducers after an addition of only 3-5% AFMT. Prior to the application of Prolong, vertical pumps suffered continual loss of bearings. Furthermore, the plant has had continued benefits from the application of Prolong products in the following areas: Babbited bearings, boiler feed pumps, water pumps, air preheaters, reciprocating air compressors, fluid drive couplings, fans, vacuum pumps, coal conveyors and gearboxes.
Indianapolis Power & Light Steam Plant, IN
About 12 years ago i bought a 1992 dodge dakata 4×4 with a 3.9 v6 with 87000 miles on it. I had seen prolong used at the race track in town here and thought I would try it in my truck so i bought some and have been using it ever sence on everything i drive I still have the truck i just turned over 240,000 miles everyone laughs at it cause it rattles alot I run 20w50 and prolong in it all year long it's so loose i can just about turn it over by hand without using a wrench I just put a new trans it and started using your trans lube. I tell everyone that when the engine does die i'll just put another one and start over . Just wanted to thank you for your product and tell you about the mileage i have on it i think your product has a lot to do with it. i don't know how long it will run but i'm going to find out i will always use your oil thanks i'm just a old guy with a old truck that has out lasted a lot of trucks.

I thank you again,
Richard R., Lake Geneva, WI
Other Industrial Products
View all industrial products HERE