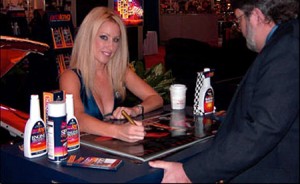 Marnie began her professional modeling career 10 years ago at the encouragement of close friends. Race fans know her as the reigning "Miss Prolong", one of the most recognized spokes models in the automotive sports industry, promoting Prolong Super Lubricants' growing line of automotive products.
At the beginning of her career, Marnie really got noticed when she became a member of the Los Angeles Raiderettes. Cheering for 2 years in LA, and 1 year as co-captain in Oakland, she has appeared in calendars, trading cards, videos and at several charity events. This boost of popularity prompted her to pursue a modeling career, which has since taken off! As a model, she has graced numerous posters for such companies as Coors Light, Sauza Tequila, Extreme Speeds and, of course, Prolong Super Lubricants. She has also appeared in several calendars, catalogs, magazines, several national infomercials, commercials and has appeared in television shows such as The OC, The Mullets, Skin, Scrubs and was featured in the new hit show Las Vegas. Movie appearances include Spiderman II and Starship Troopers.
Working for Prolong has opened many doors in the automotive performance and motorsports industry. She has been extensively involved in NASCAR, CART, IRL, NHRA, IHRA as well as a host of locally sanctioned auto races nationwide. She has presented many awards to drivers in the winner's circle, signed posters and posed for snapshots for thousands of fans across the nation and most recently launched her own motorsports calendar and racing website!