Retired Marine and former street stock and drag racer Richard Severance is so impressed with Prolong's products, that when his daughters began participating in the IHRA's Jr. Drag Racing League, he insisted on nothing but Prolong products in the engines and tanks of the girls' Jr. Dragsters.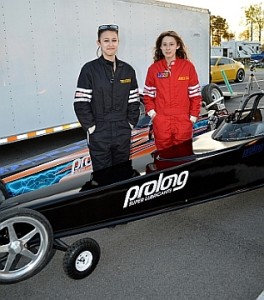 Impressed with the girls' potential and passion for drag racing, Prolong became their sponsor in January of 2013. The Severance family will donate all the monetary proceeds from the girls' winnings throughout 2013 to The Wounded Warrior Project (WWP) on behalf of Prolong.
Richard, who is a wounded warrior, joined the Marines in 1983 and retired from a military career in 2004. His daughters, Treasure, 14, and Angelica, 13, were both born in Okinawa and are proud to be able to support the WWP.
"I truly appreciate Prolong giving me the opportunity to race and I'm proud to be able to showcase Prolong as my sponsor," said Treasure. "Prolong allows us to do what we love and support our favorite organization at the same time."
In March, Treasure won her first race at Kinston Dragway, running in the Jr. Drag Racing League Advanced Class. A relatively new driver, she is working her way up to the Masters Division. She drives a Hardings car powered by a Blossom Super Rhino.
Angelica graduated from Doug Foley's Racing School at the age of 12 and is now running in the Masters Division. She has a new 2013 East Coast Performance chassis with a Blossom Super Rhino.
"They both have such phenomenal potential," said Richard. "I expect them to show great advancement over the next few years."
The Severance team uses Prolong Engine Treatment AFMT(tm) advanced technology; Fast Fuel(tm) Octane Power Boost; High-Performance EP-2 Multi-Purpose Grease; SPL100(r) Super Penetrating Lubricant and Fast Fuel(tm) Injector Cleaner.
Richard has used Prolong products since the fall of 2012, when he first tried them. "I was impressed with Prolong because the products work as they say they do," he said. "Then our crew put it in their vehicles and they said 'Wow! It's not hype. It really works."
Prolong products are used in the Severance family's crew cab Chevy dually pickup that tows their 26-foot car hauler and a golf cart used at the track. Additionally, the family's cars are washed with Prolong Waterless Wash & Shine Spray. To help their fellow racers, the girls also hand out Prolong products at the track.
Treasure and Angelica are fourth generation racers. Racing blood has been running in the Severance family's veins since the 1950s, when the girls' great grandmother, Melba Pritchard, raced stock cars in Arizona and their great grandfather, Steve Pritchard, gained notoriety as a jalopy champ in 1954. And Jan Hughes, the girls' grandmother, raced in the American Hot Rod Association and holds records in the Super Stock class. Sam Hughes, their grandfather, worked on Johnny Loper's Little Hoss, AA Fuel Funny car on the west coast and he also drove a C super modified Camaro in NHRA.
To learn more about Prolong, visit www.Prolong.com. Find Prolong on Facebook (www.facebook.com/GoProlong) and follow on Twitter (www.twitter.com/GoProlong) for additional specials, product and race information.
Prolong Super Lubricants, a brand of GoldenWest Lubricants, Inc., produces a wide range of chemicals and car care products, including engine, fuel and transmission additives; chassis and wheel lubricants; vinyl and leather protectants. Its Anti-Friction Metal Treatment(tm) (AFMT) advanced technology treats and modifies the surface of metal to reduce metal wear, heat and friction. For more information, visit www.prolong.com, or contact Prolong at 1937 Mount Vernon Ave., Pomona, Calif., 91768; phone: 800.540.LUBE (5823); fax: 800.966.LUBE (5823).