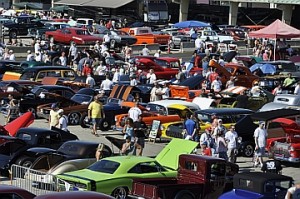 POMONA, Calif. – Prolong® Super Lubricants is a 2013 Goodguys Choice Product. Attendees with registered vehicles can enter to win a gift certificate for Prolong products at any upcoming Goodguys event.
To win a Prolong prize pack at a Goodguys event hot rod and muscle car owners who are registered for the event must complete the Choice Product Ticket found in the participant packet and give it to a representative in the Goodguys Choice Product giveaway booth. Throughout each event, tickets will be drawn and winners will be posted on the Giveaway board in the booth. Winners must be on-site to pick up their prize by the end of the day; unclaimed tickets will be returned for next day's drawing.
"For the last five years we have been participating in the Goodguys Choice Product giveaway and have found it to be a great way to showcase our products to hot rod and muscle car owners," said Ian McKinney, General Manager: Domestic Sales, Marketing and Motorsports, Prolong. "These prize packs include a nice assortment of Prolong products that every owner can use to extend the life of their engine and appearance of their vehicle."
Enter your Choice Product Ticket to win a Prolong value pack at any of the following 2013 Goodguys events:
* July 5-7: 22nd Heartland Nationals in Des Moines, Iowa
* July 12-14: 16th Goodguys PPG Nationals in Columbus, Ohio
* July 26-28: 26th Wesco Autobody Supply Pacific Northwest Nationals in Puyallup, Wash.
* Aug. 16-18: 12th Great Northwest Nationals in Spokane, Wash.
* Aug. 23-25: 27th West Coast Nationals in Pleasanton, Calif.
* Sept. 20-22: 3rd Speedway Nationals in Indianapolis, Ind.
* Oct. 4-6: 21st Lone Star Nationals in Fort Worth, Texas
* Oct. 25-27: 20th Southeastern Nationals in Charlotte, N.C.
* Nov. 9-10: 24th Autum Get-Together in Pleasanton, Calif.
* Nov. 15-17: 16th Southwest Nationals in Scottsdale, Ariz.
* Nov. 22-24: 3rd Fall Del Mark Nationals in Del Mar, Calif.
Prolong's SPL100, Transmission Treatment and Engine Treatment are formulated with the company's exclusive Anti-Friction Metal Treatment™ advanced technology to chemically bond to metal surfaces in the engine to generate a protective layer that helps prevents metal-on-metal wear.
Prolong products can be purchased at Pep Boys, AutoZone, O'Reilly Auto Parts, Parts City Auto Parts and many other fine retailers or online at www.prolongstore.com/eStore.
To learn more about Prolong, visit www.Prolong.com. Find Prolong on Facebook (www.facebook.com/GoProlong) and follow on Twitter (www.twitter.com/Go_Prolong) for additional specials, product and race information.
Prolong Super Lubricants, a brand of GoldenWest Lubricants, Inc., produces a wide range of chemicals and car care products, including engine, fuel and transmission additives; chassis and wheel lubricants; vinyl and leather protectants. Prolong's Anti-Friction Metal Treatment™ (AFMT) advanced technology treats and modifies the surface of metal to reduce metal wear, heat and friction. For more information, visit www.prolong.com, or contact Prolong at 1937 Mount Vernon Ave., Pomona, Calif., 91768; phone: 800.540.LUBE (5823); fax: 800.966.LUBE (5823).