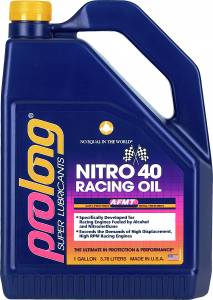 POMONA, Calif. – Drivers competing in today's domestic and foreign race circuits with smaller, alcohol- or nitromethane-fueled engines now have an advanced racing oil formulated specifically for their needs. Prolong® Super Lubricants 40W Nitro Racing Oil is designed to deliver extra protection and boost performance in engines that rely on a higher compression ratio for maximum engine power outputs.
Featuring a blend of premium synthetic base oils and additives, Prolong's 40W Nitro Racing Oil is formulated with Prolong's advanced Anti-Friction Metal Treatment™ (AFMT™) technology to protect against high temperature oxidation, wear and viscosity breakdown during severe use. It is formulated to meet the demands of high-horsepower, high-RPM engines, with highly-effective detergent dispersants and corrosion inhibitors to keep engine parts clean and free of sludge, varnish and rust.
"Prolong is involved in an extensive racing program and we're actively working with drivers across a series of racing sports which have specific engine fluid requirements," said Ian McKinney, General Manager, Domestic Sales, Marketing and Motorsports, Prolong Super Lubricants. "Prolong 40W Nitro Racing Oil was developed specifically for the unique needs of speedway bikes, circle track, sprint cars and many other racing applications."
Prolong's 40W Nitro Racing Oil is available in one-gallon bottles, five-gallon pails and 55-gallon drums. Prolong products can be found at many retail locations, and can also be purchased online at www.prolongstore.com/eStore.
To learn more about Prolong, visit www.Prolong.com or call 800.540.LUBE (5823).Find Prolong on Facebook (www.facebook.com/GoProlong) and follow on Twitter (www.twitter.com/Go_Prolong) for additional specials, product and race information.
About Prolong Super Lubricants
Prolong Super Lubricants, a brand of GoldenWest Lubricants, Inc., produces a wide range of chemicals and car care products, including engine, fuel and transmission additives; motor oils; chassis and wheel lubricants; vinyl and leather protectants. Its Anti-Friction Metal Treatment™ (AFMT) advanced technology treats and modifies the surface of metal at the molecular level to reduce metal wear, heat and friction. For more information, contact Prolong at 1937 Mount Vernon Ave., Pomona, Calif., 91768; phone: 800.540.LUBE (5823); fax: 800.966.LUBE (5823).