POMONA, Calif. – Prolong® Super Lubricants offers the marine industry its Waterless Wash & Shine, an advanced detailer designed to clean boats and personal watercraft without the need for water, rinsing or drying.
Waterless Wash & Shine features special lubricating agents to encapsulate dirt, sea salt residue and lake scum so they can be easily removed. Simply spray the product on your boat, jet ski or other marine equipment and easily wipe away with a terry cloth towel to leave a just-waxed shine.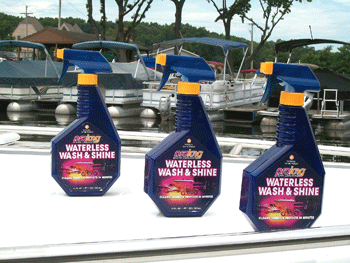 "As most water sport enthusiasts know, 2-stroke motors produce a lot of grime and our Waterless Wash & Shine is designed to clean boat and personal watercraft exterior surfaces including paint, chrome, plastic trim, painted plastic and glass. Plus, our citrus-based formula is non-toxic, so it's safe for the environment," said Ian McKinney, general manager, domestic sales, Marketing and Motorsports, Prolong Super Lubricants. "For boat and personal watercraft interior Prolong offers a Super Protectant product which keeps vinyl, rubber and leather looking new."
Prolong's Waterless Wash & Shine is safe for conventional and clear-coated paints and can be applied in the sun or shade. In addition to cleaning, the product leaves a protective film that acts as a barrier making future boat and personal watercraft cleaning easier.
Find Prolong on Facebook (www.facebook.com/GoProlong) and follow on Twitter (www.twitter.com/Go_Prolong) for additional specials, product and race information.
About Prolong Super Lubricants
Prolong Super Lubricants, a brand of GoldenWest Lubricants, Inc., produces a wide range of chemicals and car care products, including engine, fuel and transmission additives; chassis and wheel lubricants; vinyl and leather protectants. Its Anti-Friction Metal Treatment™ (AFMT) advanced technology treats and modifies the surface of metal at the molecular level to reduce metal wear, heat and friction. For more information, visit www.prolong.com, or contact Prolong at 1937 Mount Vernon Ave., Pomona, Calif., 91768; phone: 800.540.LUBE (5823); fax: 800.966.LUBE (5823).