It isn't everyday your car puts cash in your pocket.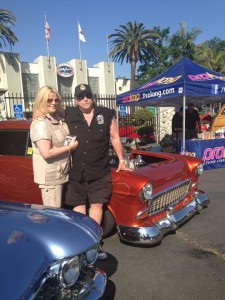 However, Oak Hills resident, Steve Quercio, can attest to his 55 Chevy earning him some cashola.
Twelve-year car enthusiast, Quercio took home a cool $250 after winning Prolong's June Twilight Cruise Contest. An exterior car detail with Prolong's Waterless Wash & Shine and Super Protectant, and an additional $100 in Prolong products made the deal even sweeter.
"Prolong has some great cleaning products and puts on a great event," said Quercio.
His 55 Chevy Bel Air shined under the Prolong tent just in front of the NHRA Museum where the monthly Prolong Twilight Cruise is held.
June's cruise saw over 300 classics and Hot Rods, and introduced the Prolong Girls.
Quercio wasn't the only one who left with his hands full. Prolong Girls gave away prize bags with complimentary SPL100 and Waterless Wash & Shine.
For the past two months, Prolong has opened its contest to owners of classics and Hot Rods via Facebook. Prolong is the judge of the best entry (car) and the main criteria is attendance at the cruise to accept their prize and exterior detail.
Car enthusiasts from throughout Southern California have entered the last two competitions.
July's contest is underway and the same prize package is at stake. Contest entries must be available to attend the July 3 cruise, and can enter online at www.prolong.com/twilight_cruise_enter.  Entry period ends Friday, June 28.
The July Prolong Twilight Cruise will again feature the winner of the third contest, the Prolong Girls and free products and giveaways.