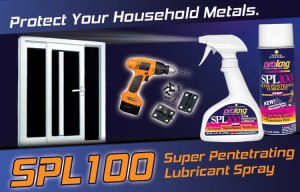 Want to protect your household metals with an industrial-strength formula? Trust the job to Prolong SPL 100® Super Penetrating Lubricant Spray. It's formulated with AFMT™ (Anti-Friction Metal Treatment) advanced technology to lubricate, penetrate and prevent corrosion, free sticky mechanisms, displace moisture, stop squeaks, and reduce friction and wear on all metal surfaces.
Prolong SPL 100® Super Penetrating Lubricant Spray comes in three sizes. The 4- and 12-ounce cans spray upside down. Point and spray for broad coverage, or use the accompanying durable "straw" for close, precision application. The 16-ounce bottle features a trigger spray head for non-aerosol applications, perfect for home use.
Did you know that SPL100 Super Penetrating Lubricant can also be used…
• To lubricate key holes such as the one on your car, truck, mail box, or door. Just point and spray at the key hole for fast results.
• To prevent rust from forming in a progressive stamping machine. Spray the SPL100 directly on the hydraulic cylinders.
• To prolong the life of automated assembly machines. Spray wherever metal components are constantly exposed to friction.
• Great for sliding patio door and interior sliding closet doors.
• Great for Garage door tracks, runners, chains and screw drives.
• Excellent for cleaning and lubricating Bicycle chains as the SPL100 does not attract dirt.
• Use on drill bits, especially in a Drill Press to extend tool life.
• Have a noisy spring, try SPL100, it even works on Dishwasher Door Springs.