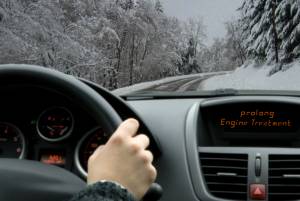 In the freezing winter temperatures across the country, your engine can be vulnerable at startup. One of the greatest challenges to motor oil during cold weather start-ups is protecting the critical engine parts. Here are some steps to help prevent any damage:
Check your owner's manual and choose the correct oil viscosity
Add Prolong® Super Lubricants Engine Treatment to protect the unprotected metal parts during cold weather startups.
Prolong® Engine Treatment is specially formulated with the company's exclusive Anti-Friction Metal Treatment™ (AFMT). Prolong® Engine Treatment doesn't mix with oil; it uses oil, either synthetic or petroleum, to carry it to the engine's metal surfaces where molecules in the treatment chemically bond to moving parts, lubricating and protecting even when the motor oil is not yet fully circulating in the engine. Because of this, Prolong® Engine Treatment is perfect for cold weather start up.
Prolong® Super Lubricants products contain no solid particles, such as PTFE resins, 'molys', zinc, copper or graphite and do not alter the viscosity of the motor oil. So if you're worried about your engine this season, Prolong® Super Lubricants can help!