Prolong's Anti-Friction Metal Treatment (AFMT™) formula makes no other automotive lubrication treatment exactly like Prolong products. This revolutionary technology is effective and unique, interacting with metal surfaces through an advanced chemical process to form a protective molecular buffer between metal parts. The result: A dramatic reduction in friction and heat at the point of extreme metal-to-metal contact, right where it's needed most for better protection and performance.
Mines and Machines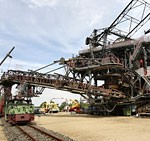 Early in its introduction, Prolong technology was put to the test in major industrial and manufacturing applications such as the massive DeBeers gold and diamond mines in South Africa, the copper mines of Chile, and the commercial / industrial equipment found in Detroit-type automotive facilities. Lubrication with Prolong products significantly helps optimize production, and reduce operating overhead and costly downtime.
Checkered Flags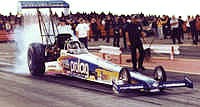 By far the most visible and dramatic arena for Prolong to "show its stuff" has been the world of motor sports. Under the most grueling conditions and skeptical gazes of the best drivers, mechanics and crew chiefs in the world, Prolong products have helped take the checkered flag! NASCAR, NHRA, IHRA, and Indy Racing League teams have relied on Prolong products for over a decade.
A Historical Infomercial


Prolong first reached the average car owner through the exceptionally effective "Million Dollar Challenge" TV infomercial which featured the unforgettable "sand in the engine" demonstration driving a red Viper around the Willow Springs track in the scalding Southern California desert. The half-hour show aired over 100,000 times and achieved astounding recognition and response.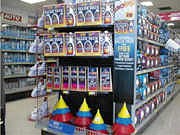 High on the Shelf 
A ground swell of consumer demand followed the successful debut of the Prolong infomercial. Major retailers were anxious to get Prolong products stocked. Soon everyone who cared about the car they drove could walk in to popular stores to buy Prolong. And they did!
Let's keep on Truckin'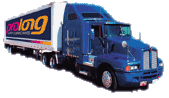 Seeing the infomercial, commercial truck owner/operators also called the order lines, demanding Prolong products for their heavy-duty trucks and rigs. The benefits of Prolong products are touted by repeat users in this backbone industry of America, as they struggle to increase performance, decrease costs, and squeeze another cent of profit per mile.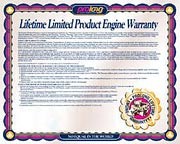 Standing Behind the Product
Prolong Super Lubricants is so confident of the benefits of its AFMT™ advanced technology, that the company offers a free Lifetime Limited Product Engine Warranty for eligible vehicles with the use of Prolong Engine Treatment. Drivers may register vehicles as old as ten years with up to 100,000 miles and, once registered, the warranty can be extended for as long as the vehicle is owned by using Prolong with future oil changes.
To Pour… Or Have Poured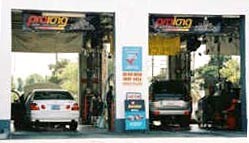 Many drivers prefer to take their cars to reputable oil change and service facilities for service and repairs. As the Do It For Me (DIFM) trend increased, Prolong developed comprehensive programs for dealerships, quick lube and automotive service facilities to also offer the added value of Prolong products to their customers. The Prolong Lifetime Warranty is available and can be maintained through these locations.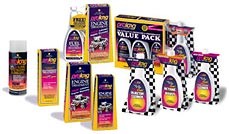 Expanding the Line
The automotive lubricant products formulated with Prolong's AFMT™ advanced technology are the company's flagship line, but Prolong has also introduced Fast-Fuel™, a line of fuel-related products to help maintain environmentally clean and fuel efficient operation. A line of Prolong appearance products, anchored by the amazingly effective Waterless Wash and Shine, has earned a growing and extremely loyal consumer following.
Expanding the Horizons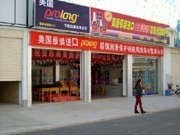 Soon after Prolong automotive products began appearing on U.S. shelves, they were also labeled for consumers to the north and south of our borders, and are now sold all over the globe, from China to Chile, Africa to Europe. The company's international expansion has really taken off as both automotive and industrial customers abroad discover the benefits of AFMT™ technology.
The Strategy of Success
The company is focused on research and marketing of household, automotive and energy-related products that live up to its tradition of technical innovation and down-to-earth utility for consumers worldwide. Prolong continues to demonstrate that the key to business success is providing effective products with the unyielding standard on which the company was founded: No Equal In The World®.